Chiang Mai – a coffee lovers paradise…
I love coffee, I think I already made that clear. I love silence too. I like to work in a quiet space, surrounded by nice people and lots of trees and flowers. There countless coffee shops in Chiang Mai so I decided to write only about 5 of them and those I go a lot. Easy to love these places and their owners and the staff. Everybody is very friendly and not only pretending to be friendly. 
You digital nomads out there, check out my top 5 "hidden gem" coffee shops in Chiang Mai. I promise you won´t regret taking a look at them.
Happy Espresso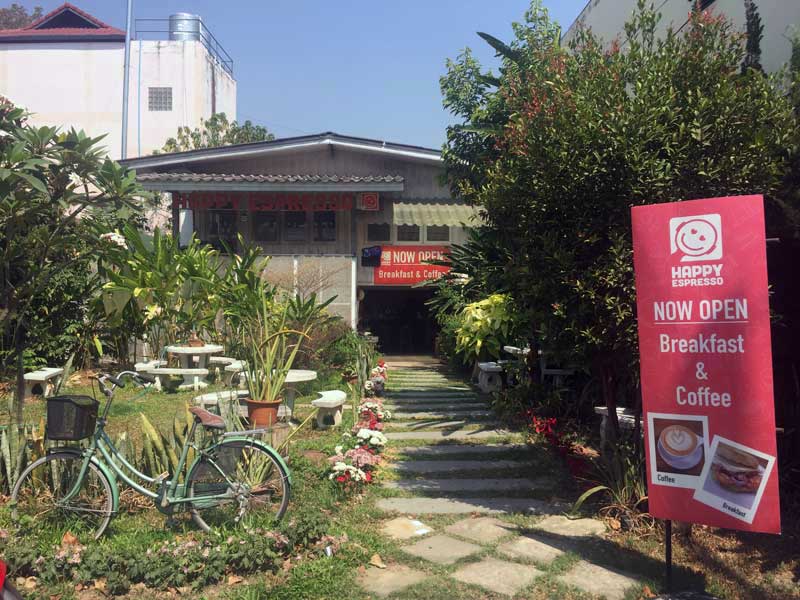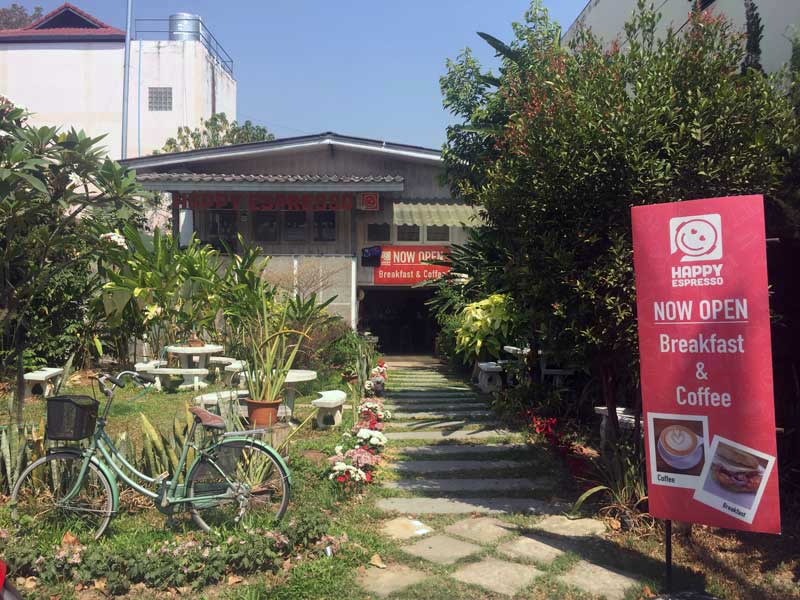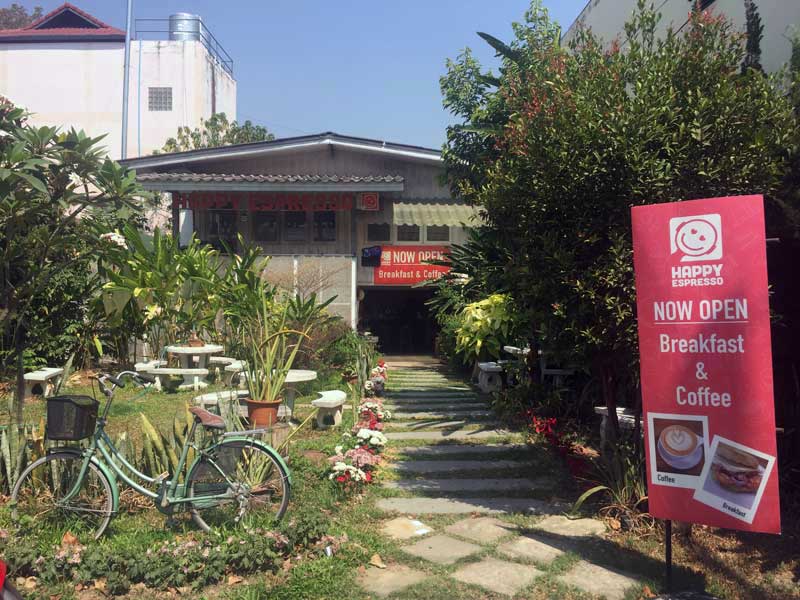 Internet
DL 33Mbps
UL 20Mbps
Coffee Prices
Espresso 50 Baht
Americano 50 Baht
Cappuccino 60 Baht
Cafe Latte  60 Baht
Happy Espresso is located right next to the moat down south. It´s a neat place with good internet and great coffee, my most favorite coffee in Chiang Mai. They don´t care so much about having new customers since they mostly sell beans to coffee shops all around town and further.
Happy Espresso has a great atmosphere and it is ideal if you´re living in the old town. The staff is exceptionally friendly, they offer power outlets and some tables and chairs to work on. I prefer not to work there, I´d rather go for a chat an have a good time there.
if you wanna make your own coffee at home, buy beans there for around 250 Baht per 250 gram.
Go check it out, my favorite coffee in Chiang Mai…
Location
Happy Espresso, 15 Bumrungburi Road,
Chiang Mai
ON FACEBOOK
https://www.facebook.com/superhappyespresso/
Taste Cafe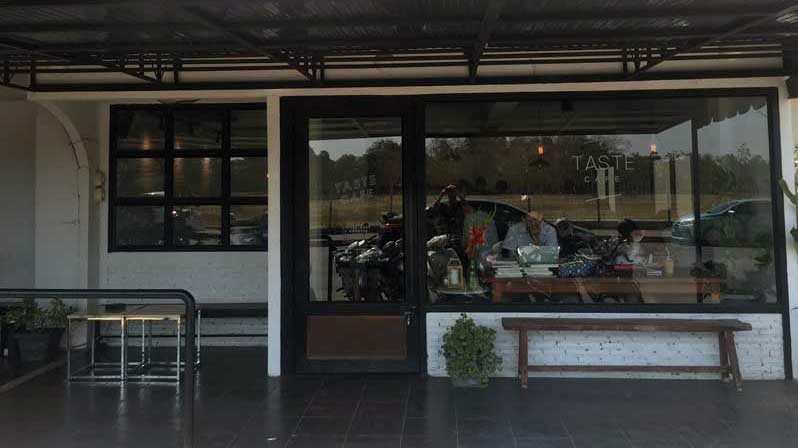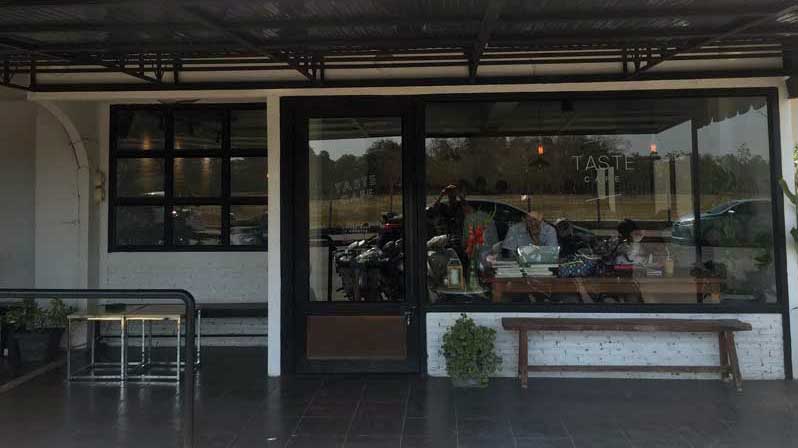 Internet
DL 18Mbps
UL 4Mbps
(Lots of people there when I checked the speed)
Coffee Prices
Espresso 55 Baht
Americano 55 Baht
Cappuccino 55 Baht
Cafe Latte  55 Baht
Taste Cafe is located near Nimman Road, so for all you digital nomads living the Nimman dream. It´s small but offers power outlets and a couple of tables to work on. The coffee is great and they also offer smoothies, shakes, and little snacks.
It´s busy all the time, but I haven´t seen many farangs, that´s why I put it on my list. Staff is very friendly, internet speed is good enough and it´s in a convenient area when you live on Nimman road.
Location
10 Chiangrai Rd . Suthep
Chiangmai 50200
ON FACEBOOK
https://www.facebook.com/Taste.Cafe.chiangmai/
Basecamp Coffee House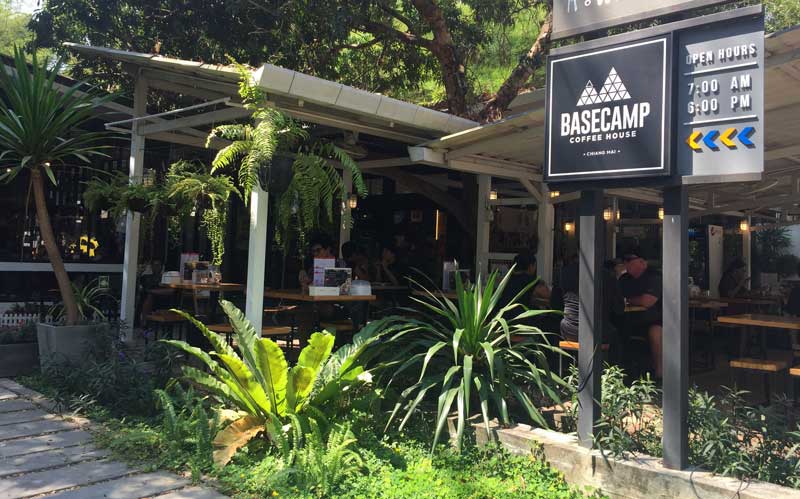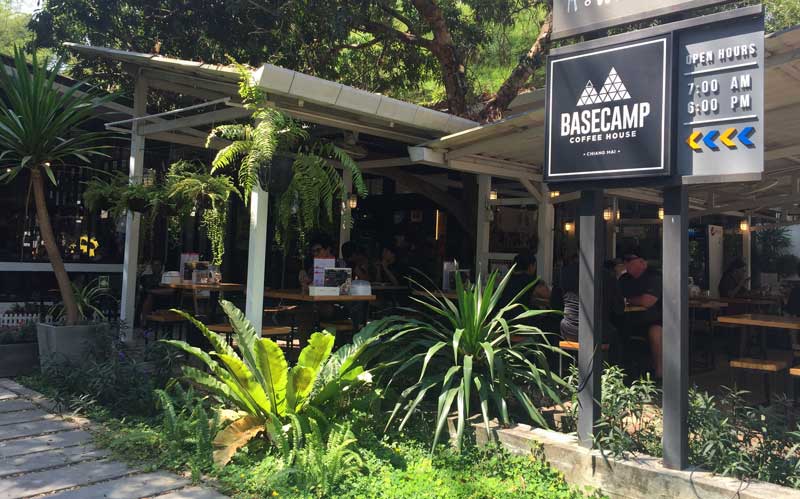 Internet
DL 90Mbps
UL 40Mbps
Coffee Prices
Espresso 45 Baht
Americano 50 Baht
Cappuccino 50 Baht
Cafe Latte  50 Baht
I love Basecamp Coffee House, the owner is my tattoo sister. I saw an origami piece on here forearm and asked her if I could make something similar. A few weeks later I showed here. Now we are tattoo sister and brother. That´s just one story.
Basecamp Coffee House offers great coffee, shakes, appetizers, meals in all variations and even trekking tours. They have a small shop inside, where you can buy stuff for trekking and outdoor sports activities.
They have a lot of power outlets, very good internet speed and a nice aircon area inside with lots of tables to get work done.
Sitting outside is also a very good option. Lots of shade and very very good coffee!
Get your coffee and cake at Basecamp Coffee House…
Location
Basecamp Coffee House, 6/1 Suthep Rd.
Chiang Mai
ON FACEBOOK
https://www.facebook.com/BasecampCoffeeHouse/
Coffee or me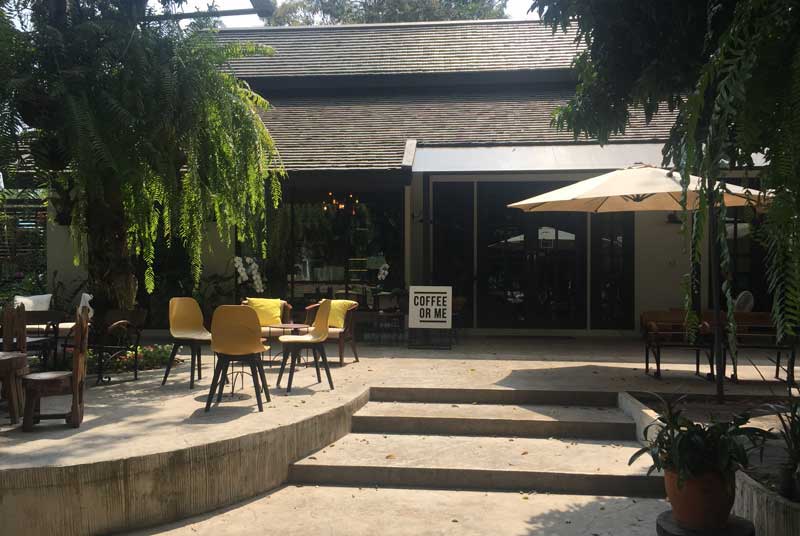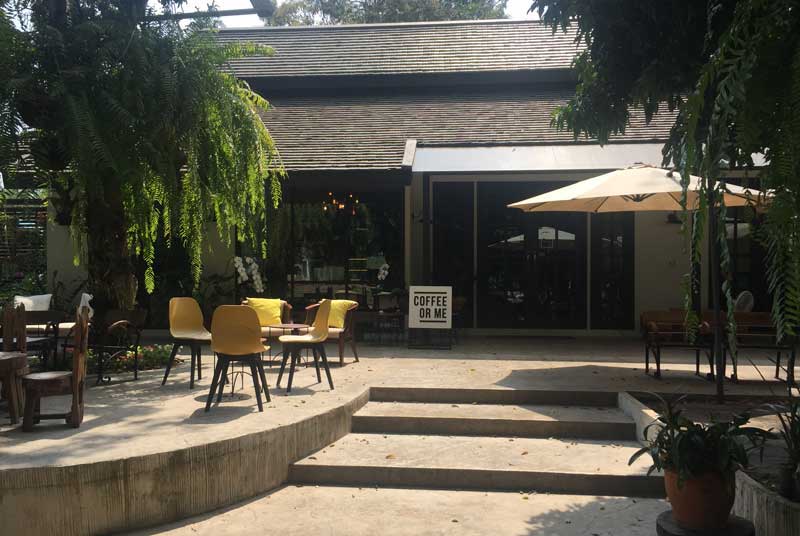 Coffee Prices
Espresso 65 Baht
Americano 65 Baht
Cappuccino 70 Baht
Cafe Latte  70 Baht
This is a special place too. Coffee or me, those guys there are professional baristas with a huge and very expensive coffee machine. They know how to make good coffee and let you feel tranquil in the nature surrounded area.
The staff is very friendly, the internet is fast, there are tables and power outlets… all you need as a digital nomad…
It´s a perfect place for work or for relaxation. Easy to stay a couple of hours without even noticing. Great coffee, cake and a very good (vegan — not sure here) restaurant next by, they also offer free fruits! The area is peaceful with a huge garden to walk around and enjoy yourself…
…take your time at Coffee or me
Location
Coffee or me, 132/1 Khai Lukseau Soi 5, Chang Puak, Amphoe Mueang
Chiang Mai 50300
ON FACEBOOK
https://www.facebook.com/coffeeormeatchangkhian/
Somkiat Cafe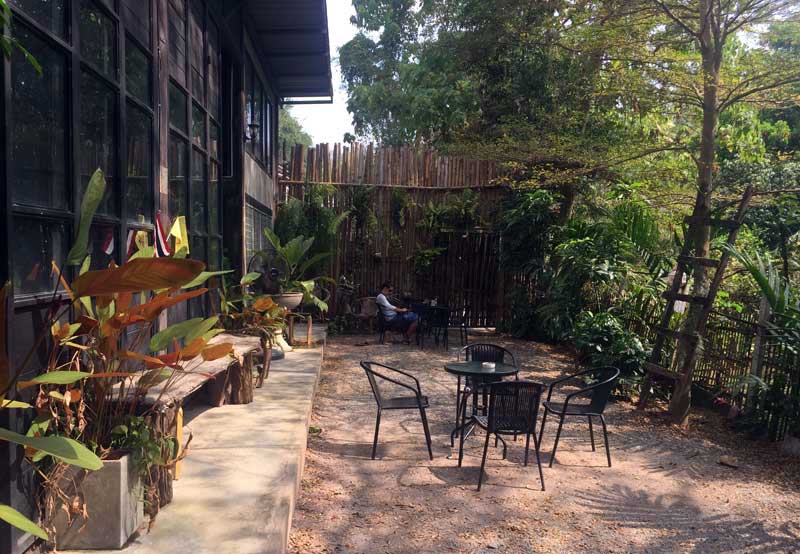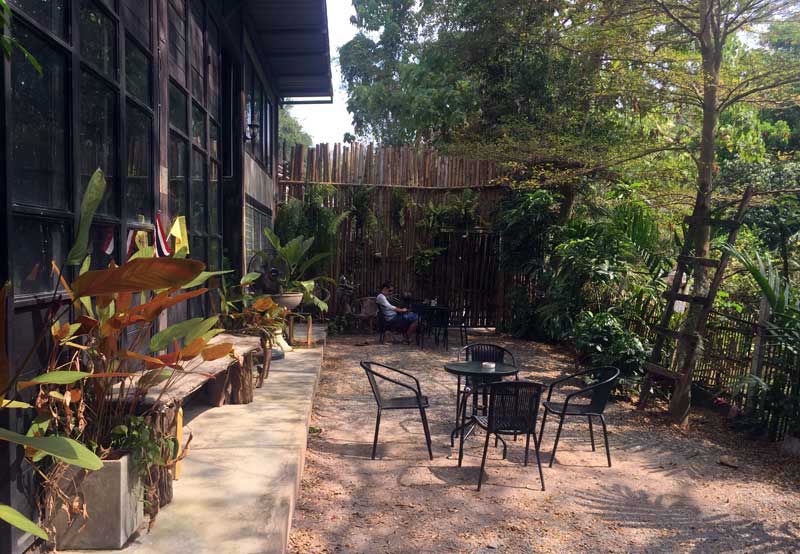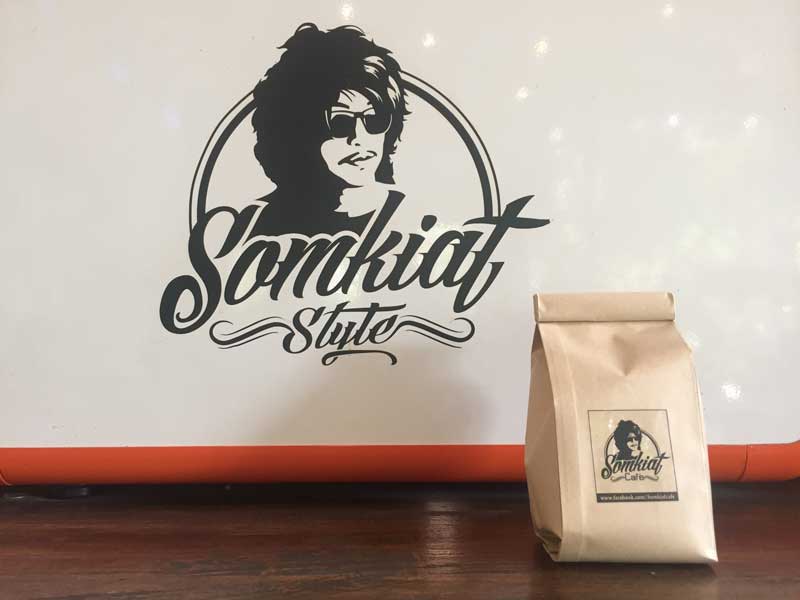 Internet
DL 40Mbps
UL 50Mbps
Coffee Prices
Espresso 65 Baht
Americano 65 Baht
Cappucino 70 Baht
Cafe Latte  70 Baht
Somkiat Cafe is a quiet place with lots of chairs in and outside offering great coffee and internet. The place is perfect if you´re searching for a place to concentrate since it´s very quiet and surrounded by big trees and lots of greenery.
The owners roast there own coffee, so you can buy their beans and use them at home, around 250 Baht for 250 gram. They are very friendly, offering all sorts of beverages and meals – which are also very good.
Somkiat is the place to go when seeking for silence…
Location
Somkiat Cafe, 105/4 Moo 13 Tambon Suthep
Amphoe Mueang Chiang Mai
ON FACEBOOK
https://www.facebook.com/Somkiatcafe/